Only 2 steps to register PCBgogo membership.
STEP 1:
Click " Sign in / Join Free " at the top right of the homepage or any other PCBgogo pages.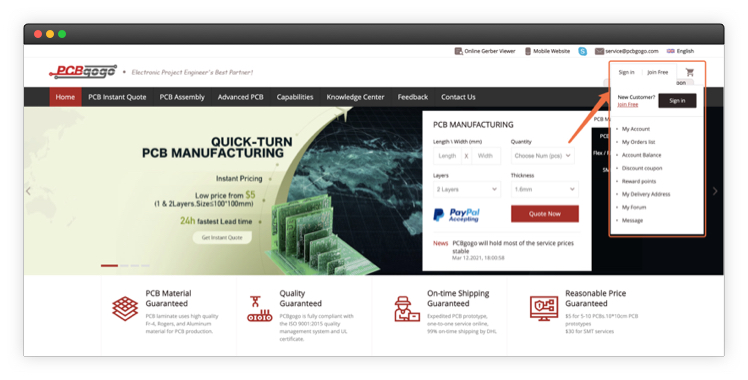 STEP 2:
Enter your email address and your password. Please re-enter your code for confirmation, then click " Register ".
STEP 3:
Enter your verification code, click " Verify". It means your account has been activated. Then enjoy the shopping on PCBgogo!

Make sure you enter the correct Email address, please log in to your registered email as prompted to obtain the verification code.
Please enter your verification code within the valid time to activate your account. Since customers in PCBgogo are from the world, there may be some delay in email transmission. So we set 30 mintues vaild of the vertification code. We suggest that you wait patiently for a while in 30 this minutes.
If you have not received the verification code for a long time, please first confirm whether the verification email is in your spam box or contact us.>

[Note]
After account activation, we suggest that you complete your personal basic information, complete the profile has the following benefits?
1. The consumer service manager will exclusively offer you suitable services based on your data.
2. You will get 400 award points after profile completion. (you can redeem gifts on PCBgogo's gift store by using the award points.)
PCBGOGO will not share, release, publish, disclose, rent, or sell any personally identifiable information to any third parties.



How to sign in?
STEP 1:
Enter your email address and password on the "Join/ Sign In" page. Click "SIGN IN".
[Note] If the login password is incorrectly entered 4 times, the account will be locked for 60 minutes. So, please remember your account/password.