Aluminum PCB Capabilities
When it comes to metal core PCBs, Aluminum PCB is the most common type as the base material is made up of Aluminum core with standard FR-4. Aluminum PCB is the highly effective choice for the high-power applications which refer to heat dissipation and generally optimum performance, as well as maintaining and controlling the overall temperature of the project. Now Aluminum PCB has been widely used in LED lighting, power equipment and automotive systems.
---
Aluminum PCB has three main layers as follows: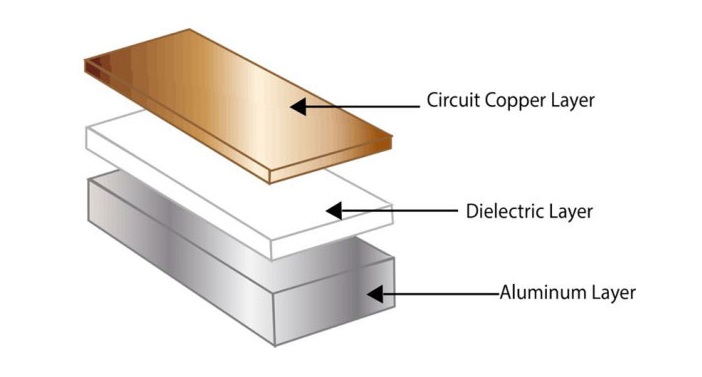 Circuit Layer: Printed circuit foil with thickness of 1 oz to 10 oz.
Dielectric Layer: The Dielectric layer is a thermally conductive layer and is around 50μm to 200μm thick. It had a low thermal resistance and it suitable for its application.
Base Layer: The base layer is most often Aluminum but can also be copper. The most commonly used thickness is 0.040" (1.0mm) although many alternative thicknesses are available.
---
PCBGOGO Aluminum PCB Capabilities
No.

Item
Process Capability Parameter

1

Base Material

Aluminum core

2

Number of Layers

1 Layer, 2 Layers, 4 Layers

3

PCB Size

1 Layer & 2 Layers:1200*300mm or 600*500mm

Multi-layers: 600*500mm

4

Quality Grade

Standard IPC 2

5

Thermal Conductivity (ω/m-k)

1W, 2W, 3W, 8W, 12W

6

Board Thickness

0.8-2.0mm

7

Min Tracing/Spacing

4mil / 4mil

8

Plated Through-hole size

≥0.2mm

9

Non-Plated Through-hole size

≥0.8mm

10

Copper Thickness

1oz, 2oz, 3oz, 4oz

11

Solder Mask

Green, Red, Yellow, White, Black, Blue, Purple, Matte Green, Matte Black, None

12

Surface Finish

HASL with lead, HASL lead free, Immersion Gold, OSP, Hard Gold, ENEPIG, Immersion Silver, None

13

Other Options

Countersinks, Castellated Holes, Custom Stackup and so on.

14

Certification

ISO9001, UL, RoHS, REACH
Choose PCBGOGO for your Aluminum PCBs
Thanks to the premium performance, Aluminum PCBs have been widely used in the areas including LED lighting, power conversion, automotive, audio device, power supply, communication electronic equipment, motor drivers, etc. We welcome your inquiry about our Aluminum PCBs: service@pcbgogo.com