What Is Silkscreen On a PCB?
28828
0
Jul 25.2019, 14:44:12
What Is Silkscreen On a PCB?
When you design or order your printed circuit boards, do you need to pay extra for silkscreen? There are some questions you need to know what's silkscreen? And how important silkscreen is in your PCB fabrication? Now PCBGOGO will explain for you.
What is silkscreen?
Silkscreen is a layer of ink traces used to identify components, test points, parts of the PCB, warning symbols, logos and marks etc. This silkscreen is usually applied on the component side; however using silkscreen on the solder side is also not uncommon. But this may increase the cost. Essentially a detailed PCB silkscreen can help both the manufacturer and the engineer to locate and identify all the components.
The ink is a non-conductive epoxy ink. The ink used for these markings is highly formulated. The standard colors we normally see are black, white and yellow. PCB software also uses standard fonts in silkscreen layers but you can choose other fonts from the system too. For traditional silk-screening you require a polyester screen stretched on aluminum frames, a laser photo plotter, spray developer and curing ovens.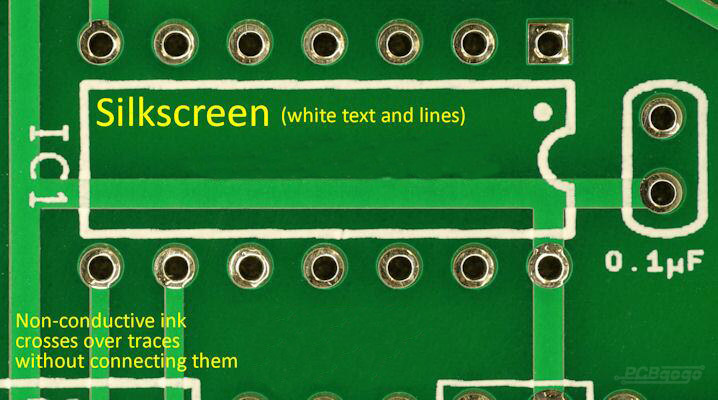 A silkscreen can provide the following information:
Polarity of parts;
Location of parts through reference designators;
Identify test points;
Identification numbers unique to each board;
Warning symbols.
Importance of the

s

ilkscreen PCB to

a

ssembly
In the past few years, the primary method of silkscreen referred to using a stencil to directly apply ink to the board surface. Nowadays, there are the two most common silkscreen PCB printing techniques, such as liquid photo imaging (LPI) and direct legend printing (DLP).
Liquid photo imaging (LPI):
This method is used when the line widths are greater than 4 mil. Liquid Photo Imaging is quite similar to the process used for the application of solder mask. In this a liquid photo-imageable epoxy is coated on to the laminate and then exposed with UV light. After this the board is developed and cured. It is much more accurate than manual screening.
Direct legend printing (DLP):
DLP is the most accurate of all these processes but is more expensive. In this process an inkjet projector is used with acrylic ink that is applied onto the raw PCB directly from the CAD data. The ink is cured with UV light as it is printed. It should be noted though that the acrylic ink does not cure on boards with silver finishes.
The application of PCB silkscreen is done during PCB fabrication, but it's used for the PCB assembly process steps, which is mainly in referring to placing or mounting components. There are some silkscreen markings used to accurately place components as follows:
Reference indicators - these identify the component types from the BOM.
Pin 1 indicator - this indicates which pins connect to what pads of the footprint.
Component outline – this, in conjunction with the landing pattern, indicates where the component should be placed.
Polarity indicators – these provide the orientation of polarized components.
For components with small numbers of pads or simple shapes, it may be acceptable for general placement to have the absence of the component outline. However, there still exists the possibility of asymmetrical placement, which may lead to problems during soldering, for example tombstoning. The absence of reference, pin 1 and polarity indicators may lead to incorrect component orientation or placement, which could have a negative effect on device functionality.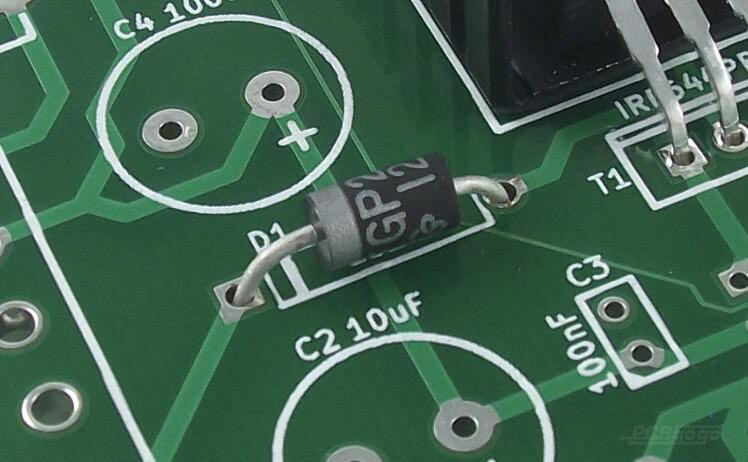 Your silkscreen on your PCB in PCBGOGO
With over 10 years as an industry leader, PCBGOGO is one of the most experienced PCB and PCB assembly manufacturer in China. highly specialized not only in quick-turn PCB prototype and PCB assembly, but also medium and small volume PCB fabrication. We can provide silkscreen on your PCBs for you, and we will try our best to meet the demands of silkscreen.
If you have any questions, please feel free to contact us with service@pcbgogo.com, we will be happy to help you.
Prev: How to Distinguish Between Immersion Gold And Gold Plating?
Next:What Is The Difference Between a Rigid PCB And a Flex PCB?
Upload a photo:
You can only upload 1 files in total. Each file cannot exceed 2MB.Supports JPG, JPEG, GIF, PNG, BMP