Holiday Schedule of May Day 2021
80
0
Apr 29.2021, 09:48:04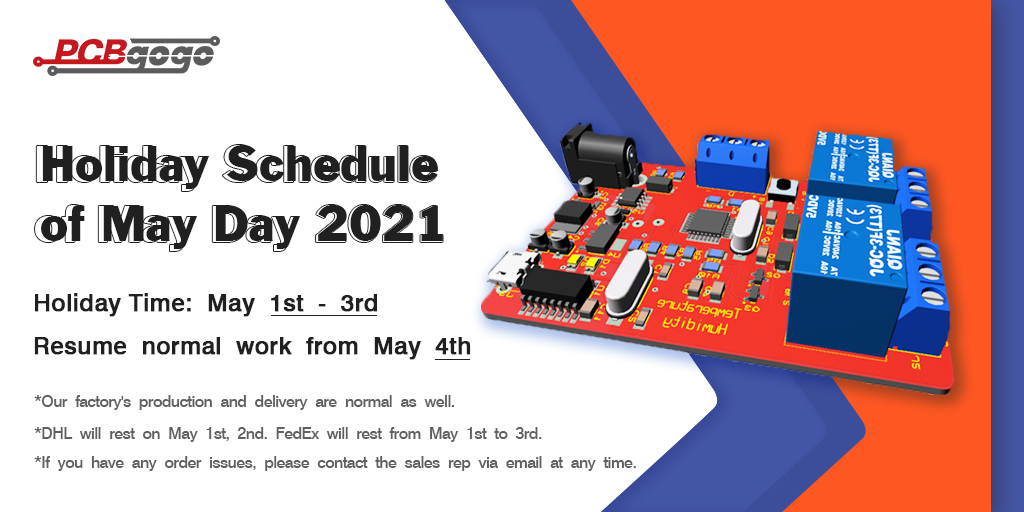 Dear All customers,
May Day (Labour Day) is coming. According to China statutory holidays related standards, PCBgogo's holiday schedule as follows:
May Day Time: May 1st - 3rd (Saturday to Monday)
Resume normal work from May 4th (Tuesday)
Please notice DHL will rest on May 1st, 2nd. FedEx will rest from May 1st to 3rd. Orders will be shipped in the order in which they were placed.
During the holiday our factory's production works normally and your orders can be placed as usual. If you have any order issues, please contact the sales rep via email at any time.
Best Regards,
PCBgogo Team
2021/4/29
If you have any questions or issues, don't hesitate to contact us via service@pcbgogo.com

Prev: We have moved to a new office! PCBgogo keeps growing.
Next: Merits of Rigid-Flex PCB for Greater Flexibility and Reliability!
Upload a photo:
You can only upload 1 files in total. Each file cannot exceed 2MB.Supports JPG, JPEG, GIF, PNG, BMP