Chinese Spring Festival 2021 Schedule.
1246
0
Jan 27.2021, 15:05:20

Chinese Spring Festival 2021 Schedule
Dear Customer,
The 2021 Spring Festival is coming soon, and we'll begin a Chinese New Year holiday from February 6th to February 17th. During the holiday, all online services on our website, such as online quote, file review and customer service are available as usual. Our factory will be back to work on February 18th. As the holiday approaches, production line orders are close to saturation. So you'd better plan ahead and arrange your orders appropriately.

How is your order during the Spring Festival holiday on PCBGOGO?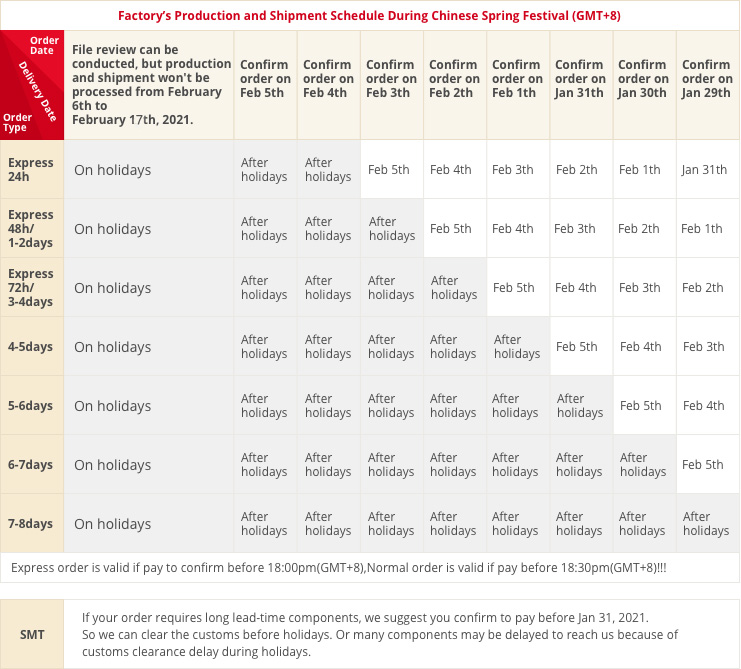 Note:
1. The schedule in the timetable here is for reference only; the actual delivery time is subject to the final review date.
2.Affected by the pandemic, we will arrange some employees still to work in the factory during the holidays. For any urgent orders, please contact your salesman for the actual delivery time.
3. As most of the employees are off-duty during the holidays, the delivery time will be longer and delay in delivery or restrictions on procurement may occur. Therefore, please arrange your orders accordingly to avoid any delay in your production schedule.
4.All the employees in PCBgogo will resume work on February 18th,2021.

What is the Spring Festival holiday?
The Spring Festival is also known as Chinese New Year( CNY ) or Lunar New Year. It's a period of time when most Chinese will go back to their hometown to have a wonderful time with families and friends, and take a short break after a workday of one year.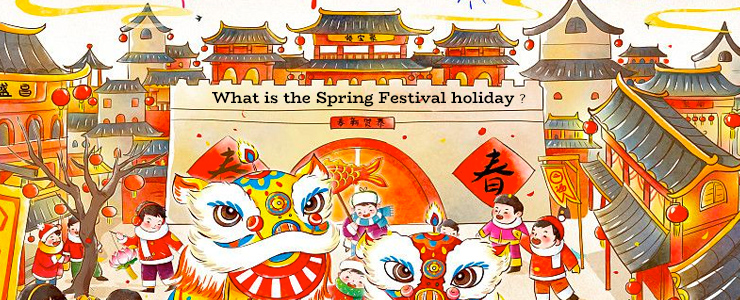 How long will Spring Festival holiday last?
The Spring Festival, also known as Lunar New Year, is the most important festival in China. Technically, the Spring Festival starts on Lunar December 31st (February 11st) and lasts until Lunar January 15th (February 26th). The official public holidays are 7 days long while it varies depending on the companies. For PCBgogo, the holidays are from February 6th to February 17th in 2021.

Prev: We are back to work!
Next:Follow these key Factors by PCBGOGO Before Moving to PCB Assembly Process
Upload a photo:
You can only upload 1 files in total. Each file cannot exceed 2MB.Supports JPG, JPEG, GIF, PNG, BMP