Current Events > What is a BOM ( bill of materials )?
What is a BOM ( bill of materials )?
May 09.2019, 16:28:42
丨
1126
丨
0
BOM
PCB assembly
component
PCB fabrication
bill of material
Return
What is a BOM ( bill of materials )?
A bill of materials ( BOM ) is a complete list of raw materials, components, and assemblies that a manufacturer needs to create a certain product. Not only does a BOM outline what manufactured and raw materials are needed to build a part, but it also includes the equipment and tools needed to build the parts.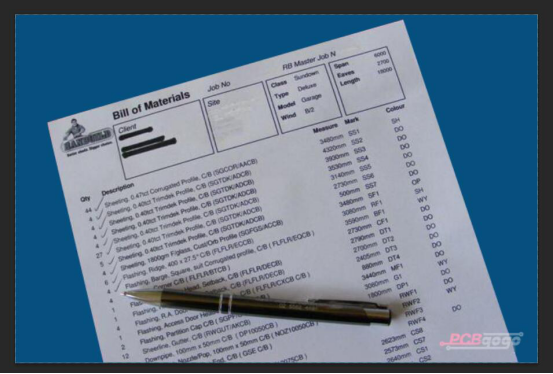 Why is a BOM important?
A BOM is the core of any manufacturing process. To make sure your order, you need to provide an accurate BOM so as to it doesn't make an effect on manufacturing in the fabrication process. A BOM affects the raw material purchase, available inventory and assembly process on the shop floor. A correct BOM plays an important role in manufacturing the product efficiently and cost-effectively.
BOM types
There are various types of bills of materials specific to engineering used in the design process, and specific to manufacturing used in the assembling process.
A good BOM ( bill of materials ) always includes some necessary elements:
· BOM level: Each component or assembly in the BOM need to have a number or ranking that explains where it fits in the hierarchy of BOM. And everyone will have a better understanding of the BOM.

· Part number: The BOM should assign a part number to each part or assembly, which allows anyone involved in the manufacturing to refer to and identify parts quickly. To avoid the bug, each part needs to receive only one part number.
· Part name: Each part, material, or assembly also contain a detailed, unique name that allows anyone to make it easy to identify the part without having to refer to other sources.
· Phase: To record the lifecycle stage of each part in the BOM. For instance, for parts that are the process of being completed, a term like "In Production" can be used. Other terms, such as "Unreleased" or "In Design" can be used for parts that have not yet been approved. Such terms are especially helpful during new product introductions since they allow progress to be tracked easily.
· Description: it needs to include a comprehensive, informative description of each material or part. This description makes it clear to identify the parts and distinguish between similar parts and materials.
· Quantity: it needs to specify the number of each part used in each assembly so that the BOM can serve as an accurate purchasing tool.
· Unit of measure: The BOM should explain what unit of measure is being used to quantify the part or material. It can use some terms like "each," "inches," "feet," "ounces," and similar identifiers of quantity. This information is good for ensuring that correct quantities are purchased and delivered to assembly lines.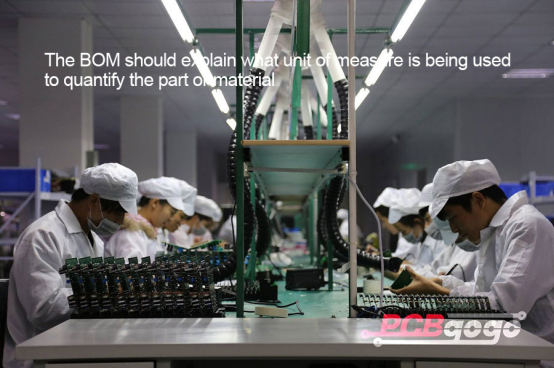 · Procurement type: Each part should be identified as something that is purchased off the shelf or manufactured based on project specifications.
· Reference designators: it's used to explain in detail how the part fits on the printed circuit board while a product includes printed circuit board assemblies ( PCBAs ).
· BOM notes: It needs to include any additional information that is necessary for those who will use the BOM.
Some BOM tips you need to know
You'll need to have some information when creating a BOM.
Do You Need to Itemize The Consumables?
In general, the manufacturers are easy to disregard mass-quantity consumable items-such as glue, wires, fasteners, labels, boxes, and other packaging materials in the BOM. What's more, all necessary materials are included in your BOM so that serve as an accurate procurement and production document.
Are There Files That Need to Be Attached to Your BOM?
There are a lot of BOMs called for supporting documentation, for example, computer-aided design ( CAD ) drawings, part datasheets, and subassembly instructions. Ensure it's correct to match to specific BOM-level items for any attached files.
How Do You Track BOM Change?
Make sure you have a system to track the BOM change. You can keep the old versions but you need to make it clear to have a label for your project.
Create your BOM based on your needs
Decide what you need and design it based on your needs of your project before creating your BOM.
Use a BOM template

Each PCB manufacturer has BOM templates, you can get it from the salesperson or websites before you quote. You can avoid some problems, such as you can't access and open the BOM document and technical problems caused by incompatible file types.
BOM Example
Here is an example of part of a BOM that includes some information as mentioned above. Maybe your BOM is more longer and includes more information.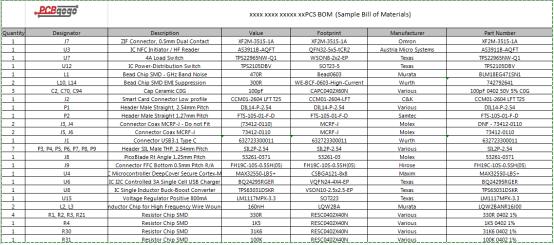 As you can be seen in the drawing, it's the name of manufacturer in the far left column of BOM, the adjacent is the manufacturer's part number, the quantity and a description of the item with units. And next to the case or package type. Finally it's the placement method.
In PCBGOGO, we specialize in quick turn PCB fabrication and turnkey PCB assembly services. " electronic engineer's best partner", we will try our best to solve your problems for PCB project. Long-term business cooperation is PCBGOGO's goal. If you have any questions, please contact us with service@pcbgogo.com, we will be happy to help you.
Prev: Meet PCBGOGO At PCB EXPO THAILAND 2019
Next:Meet PCBGOGO At JPCA Show 2019
Upload a photo:
You can only upload 1 files in total. Each file cannot exceed 2MB.Supports JPG, JPEG, GIF, PNG, BMP