Current Events > What Is Plated Half Hole PCB (Castellated Hole)?
What Is Plated Half Hole PCB (Castellated Hole)?
Jul 08.2019, 15:41:34
丨
55
丨
0
Plated Half Hole PCB
Castellated Hole
PCB fabrication
PCBGOGO
Return
W

hat Is

Plated Half Hole PCB

(Castellated Hole)?
With the rapid development of electronic products, high density, multi - function and miniaturization have been a trend in the future. The components on the board are increasing in geometric index, however the PCB sizes are less and less, so they need to do with supporting board. If the round hole is soldered to the mother board with soldering flux, there will be cold solder causing the daughter board and mother board have a poor electrical connection as the volume of round hole is large, so plated half hole is coming into being.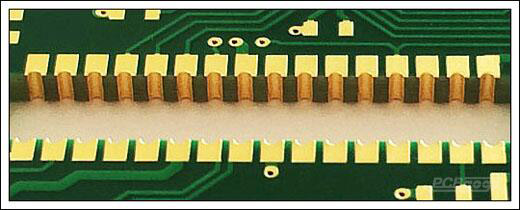 What is plated half hole?
When it comes to plated half hole, it also called castellated holes, which is plated with copper based on the specialized process on the edge of PCB. And plated half-holes are predominantly used for board-on-board connections, mostly where two boards with different technologies are combined. E.g. the combination of complex microcontroler modules with common, individually designed PCBs.
Additional applications are display, HF or ceramic modules which are soldered to the base printed circuit board.
Therefore, the board-on-board PCBs need plated half-holes, which serve as SMD connection pads. Through directly connecting the PCBs together, the whole system is considerably thinner than a comparable connection with multi-pin connectors.
PCB manufacturing process for plated half hole
Drilling- plated through hole (PTH) - panel plating - image transfer - pattern plating - striping - etching - solder mask - surface coating - plated half holes.
There are two requirements as follows when plated half holes are used for stacking one PCB right away on top of another PCB:

It needs to have electrical contacts, not only physical connection;
There are gap or zero spacing between the two boards.

Plated half holes are economical connection techniques, which can convert the circuit board into surface mounted sub-assembly. In general, they are mainly in breakout circuits for fine-pitch SMD parts or on small radio or RF assemblies. The boards can provide a better landing for soldering as they are concave and plated. They are on the boundaries of PCB stands for the daughter board or surface mount parts will mount flush on the surface of motherboard. Only fit in place will they be no space for moisture or dust to gather.

Plated half holes specifications
1. Half hole printed circuit board
2. Cost-effective, high quality
3. PCB OEM & ODM are available
4. ISO9001, UL, RoHS certificated
Applications of plated half holes
Plated half holes board are applied to industries such as: telecommunication, computer application, industrial control, power, automobile and high-end consumer electronics, and so on.
Your PCB fabrication with plated half holes in PCBGOGO
Plated half holes are available in both standard PCB and advanced PCB. For standard PCB service, the minimum diameter of castellated holes is 0.6 mm. Please contact our salesperson to provide advanced PCB service if you need smaller castellated holes. And the minimum distance between two Plated half holes is 0.55 mm. And PCBGOGO will try our best to fabricate your PCBs with plated half holes with the highest quality to meet your demands and committed to adhering to the strictest standards in PCB fabrication and assembly.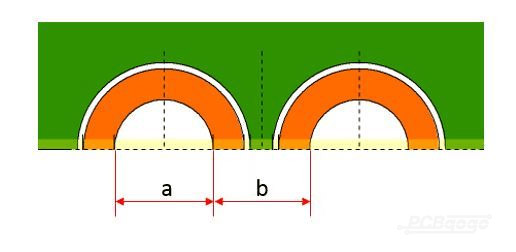 If you have any questions, please feel free to contact us with service@pcbgogo.com, we will be happy to help you.
Prev: What is PCB panelization?
Next:SMT Ordering Necessary Files & Info: Accurate information supports efficient quote & manufacturing processes
Upload a photo:
You can only upload 1 files in total. Each file cannot exceed 2MB.Supports JPG, JPEG, GIF, PNG, BMP