Current Events > Meet PCBGOGO At PCB EXPO THAILAND 2019
Meet PCBGOGO At PCB EXPO THAILAND 2019
May 14.2019, 09:55:50
丨
814
丨
0
PCB EXPO THAILAND 2019
PCB fabrication
electronic engineer
PCBGOGO
Return
Meet PCBGOGO At PCB EXPO THAILAND 2019
The PCB Expo Thailand 2019 is an international trade fair on printed circuit board manufacturing and electronics assemblies within the ASEAN countries. There will be a lot of electronic engineers and hobbyists collect in Bangkok, Thailand. So PCBGOGO sincerely invites you to visit our booth at HALL8, PCB20.

Welcome to visit PCBGOGO at PCB EXPO THAILAND 2019
PCBGOGO Booth No. : HALL8, PCB20
Date: June 27 - 29, 2019
Venue: Impact Exhibition & Convention Center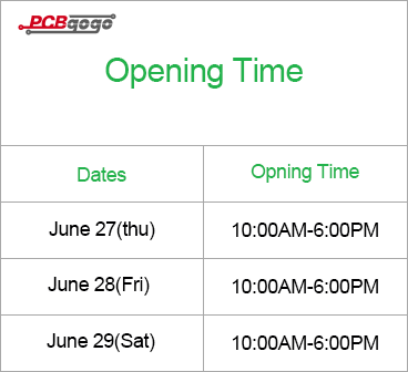 Main PCB Exhibits
Various rigid PCBs( single PCB, double PCB, multilayer PCB );
Flexible PCB;
Rigid-flex PCB;
Aluminum PCB;
......
Online Quotation Demonstration
You can feel free to consult the questions about PCB fabrication, PCB assembly, PCB layout, PCB prototype and mass production, there will have some PCB manufacturing examples to show you. And meet your surprise in PCBGOGO!
Look forward to meeting you in Bangkok, Thailand.
Prev: What is a Rigid-Flex PCB?
Next:What is a BOM ( bill of materials )?
Upload a photo:
You can only upload 1 files in total. Each file cannot exceed 2MB.Supports JPG, JPEG, GIF, PNG, BMP