Current Events > English and Japanese website have been connected
English and Japanese website have been connected
Nov 29.2018, 18:27:59
丨
506
丨
0
There is a good news from PCBGOGO, our English website has been connected with Japanese website.

As you know, pcbgogo.jp is aimed at Japanese market. And it's more convenient for Japanese customer to use PCBGOGO website, you can freely switch English website to Japanese website at any times.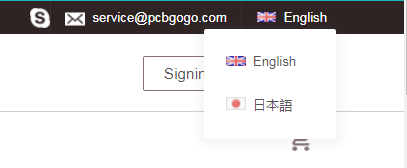 PCBGOGO is one of the most experienced PCB and PCB assembly manufacturer in China with over 10 years experience, so we are accepted by a lot of Japanese customers. However we will work hard to"electronic
project engineeer's best partner"in the world.
Prev: Meet PCBGOGO at IPC APEX EXPO 2019
Next: PCB fabrication has been improved as fast as 1 day on PCBGOGO
Upload a photo:
You can only upload 1 files in total. Each file cannot exceed 2MB.Supports JPG, JPEG, GIF, PNG, BMP