PCBGOGO Certificates of ISO9001:2015 QMS, UL, REACH, RoHS
450946
0
Apr 10.2020, 15:00:48
PCBGOGO highly specialized not only in quick-turn PCB prototype and PCB assembly, but also small and medium volume PCB fabrication. We have three factories, established over 17,000 M2, which are fully compliant with the standard of ISO 9001:2015 Quality Management System. All the PCB boards and assembled PCBs are high quality and certificated with UL, REACH and RoHS.
PCBGOGO has been certificated with ISO 9001:2015 (Certificate No.: 19818QK1323R0M).
ISO 9001:2015 sets out the criteria for a quality management system and is the only standard in the family that can be certified to (although this is not a requirement). It can be used by any organization, large or small, regardless of its field of activity. In fact, there are over one million companies and organizations in over 170 countries certified to ISO 9001.
Specialized not only in quick-turn PCB prototype and PCB assembly, PCBGOGO also is a leader at medium and small volume PCB fabrication. Our three factories are fully compliant with the ISO 9001:2015 quality management system and committed to adhering to the strictest standards in manufacture and assembly.
PCBGOGO has been certificated with UL(Certificate No.: E488074).
UL (Underwriters Laboratories) is a certifying agency for product safety that headquartered in Northbrook, Illinois since 1894. According to U.S. product safety requirements, UL test products worldwide whether it meets the requirement, so that these products may be marketed and sold in United States of America. UL Mark is the most widely accepted proof that a product meets American and Canadian safety requirements. For American consumers, the UL Mark is a recognized symbol of product safety.
All printed circuit boards made by PCBGOGO are manufactured using a UL 796 certified process according to ZPMV2. These printed circuit boards can be used into UL approved products. Please find the UL identification E488074 for the certificated specifications. And you can learn more about PCB manufacturing capabilities on our website.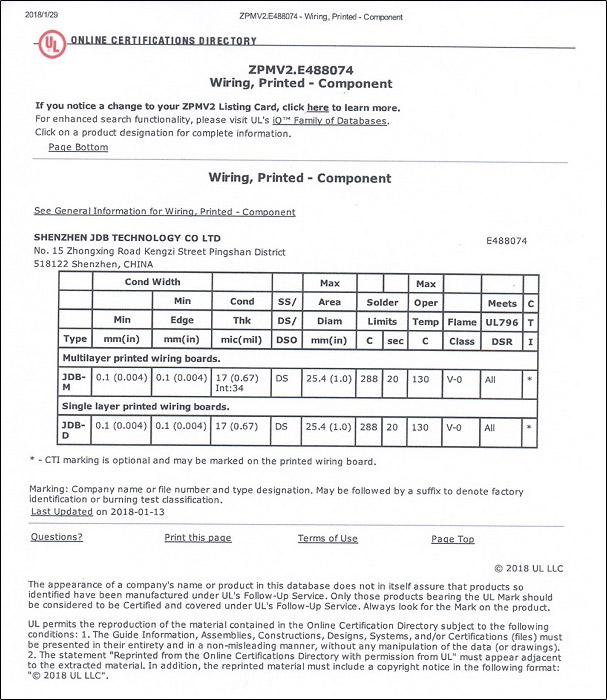 PCBGOGO has been certificated with REACH SVHC(Report No.: B-R210536610).
Registration, Evaluation, Authorization and Restriction of Chemicals (REACH) is a European Union regulation dating from 18 December 2006. REACH addresses the production and use of chemical substances, and their potential impacts on both human health and the environment.
Based on the list published by European Chemicals Agency (ECHA), 201 substances of very high concern (SVHC) testing were conducted. The concentration of each of the SVHC is under 0.1%(w/w) in the submitted samples. PCBGOGO, the world-class PCB Manufacturer was approved and certified with REACH SVHC. Please check the report B-R210536610.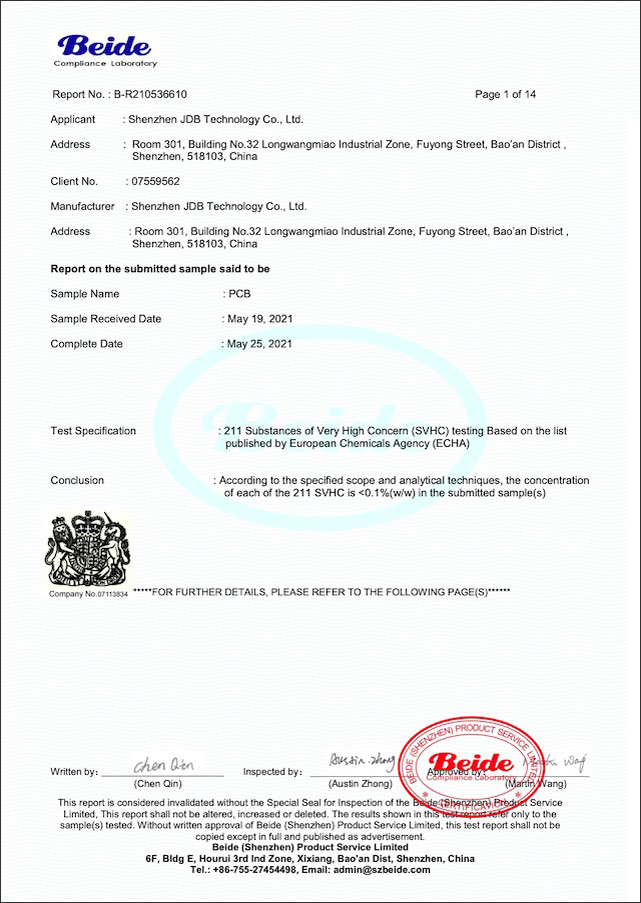 PCBGOGO has been certificated with RoHS (Report No.: B-R 210536609).
The Restriction of Hazardous Substances Directive 2002/95/EC, (RoHS 1), short for Directive on the restriction of the use of certain hazardous substances in electrical and electronic equipment, was adopted in February 2003 by the European Union. As specified by client, to determine the cadmium, lead, mercury, hexavalent chromium, PBBs/PBDEs, DEHP, DIBP, DBP & BBP content in the submitted sample.
Test Result is, PCBGOGO's printed circuit board conforms to RoHS Directive 2011/65/EU Annex Two, amending Annex (EU) 2015/863 and amending Annex (EU)2017/2102, being certificated with RoHS. Please check the report B-R 210536609.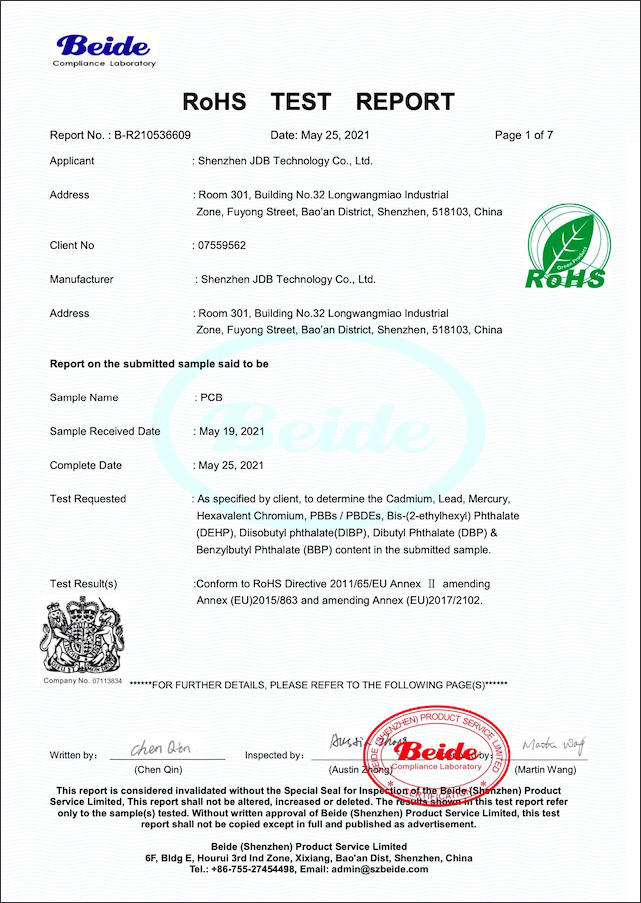 Please Note: Shenzhen JDB Technology Co., Ltd. is the Chinese name of PCBGOGO, which is a leading PCB Manufacturer in China. Come to require the instant quote now.
If you need the original certification, please contact service@pcbgogo.com.
Prev: The Impact of COVID-19 on Medical PCB Industries
Next:Check Now: PCBGOGO Updates its Standard Stackup for Multi-layer PCBs
Upload a photo:
You can only upload 1 files in total. Each file cannot exceed 2MB.Supports JPG, JPEG, GIF, PNG, BMP