The Instructables for electron, creativity and innovation on the Tecnology
Do you feel the project interesting?
Free to register as a member to follow this project and communication
Orbit - University project
Wireless speakers with audio synchronisation
3539
0
978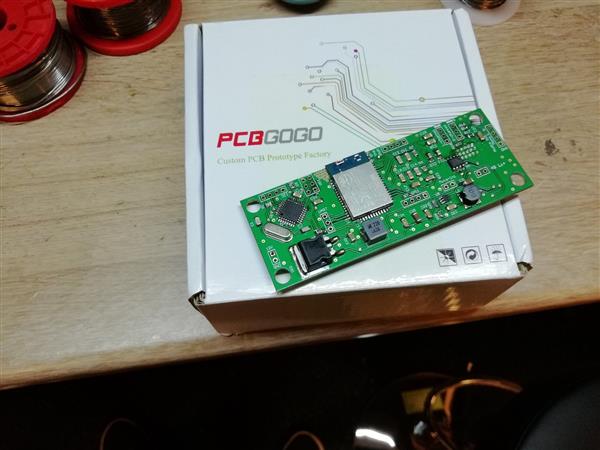 At the university we have to build portable wireless speakers. We opted to use some DSP ICs, Bluetooth Modules and microcontrollers in SMD packages in order to save space on the device and increase the reliability. We panelised the boards in order to keep the shipping costs low, which worked out very well in the end. One of the boards has some high-frequency lines from a PLL to the DSP chip and using a simple perfboard with jumper wires would add noise, which would interfere with our audio quality. Keeping EMI and high-frequency lines while routing can be quite a task some times. Many of these ICs use pads which are close to each other and the soldermask has to be between them, in order to prevent bridges while soldering. Even on the tiniest footprints PCBGOGO managed to deliver great results. When we received the boards, I was very pleased that all the traces where correct and the build quality way better than expected. I had panelised two boards and they even snapped the boards to deliver them in a smaller box. The nice thing is that they smoothened the surface of the boards, so that the mouse-bites of the panel were not there. Last but not least, I had great live tech-support and on-time delivery (including tracking of the manufacturing, which is a great feature). I had a small issue with my Gerber files, and the guy at the live chat helped me solve the issue. He also made sure to immediately review my design in order to avoid any further delays, understanding that the delivery time was very important because we have a strict project deadline. We had a great experience with your service and we will use it again in the future. I would recommend PCBGOGO for any low-cost, hobbyist or quick-prototyping projects :) Thanks a lot guys!
DISCUSSIONS
Project By
Team
This project was created on 2018/4/8 18:43:53
Project Copyright for members, Report contact: service(at)PCBGOGO.com
International
Organization forStandardizatiom
Underwriter Laboratories Inc.
Copyright © 2015 PCBGOGO. All rights reserved.
Shenzhen JDB Technology Co., Ltd.
Address: No. 15, Zhongxing Road, Kengzi Street, Pingshan District, Shenzhen, 518000, China.
Mail:
service@pcbgogo.com
Whatsapp: +8618665922549 Tel.: +86-755-33066136