Current Events > Free of Charge for 24 Hours Expedited PCB Fabrication Service on PCBGOGO
Free of Charge for 24 Hours Expedited PCB Fabrication Service on PCBGOGO
Nov 22.2018, 17:40:16
丨
518
丨
0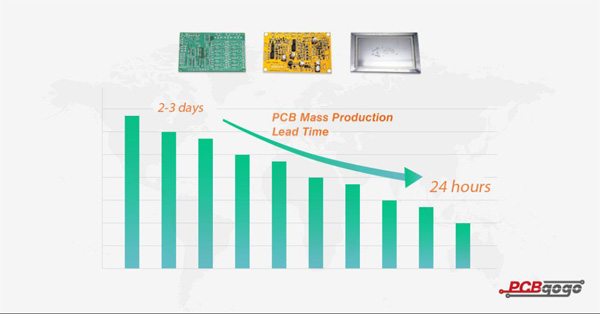 With the rapid development of PCBGOGO, we have been improved rapidly the PCB manufacturing time now. There is an amazing news from PCBGOGO, it's free to do expedited PCB fabrication within 24 hours build time.

The latest build time schedule for small volume PCB orders.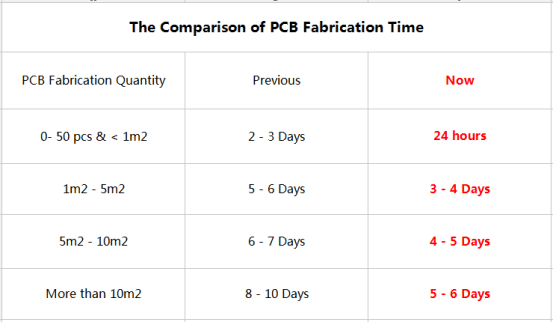 Some PCB requirements you need to know
1. Fastest build time applies to your PCB orders with the following specification;
FR-4 Material,

1-2 layers PCB fabrication,

Board thickness 1.0, 1.2, 1.6,

Green solder mask,

White silkscreen,

HASL,

Finished Copper: 1OZ,

Min Hole Size: >=0.3 mm,

Min Track/Spacing: >=6/6 mil
Now some special PCB processes ( half-cut holes, edge plating and so on) can't enjoy 24 hours PCB fabrication time;

For per 100㎝2, it needs to meet some demands within 4 PTH slots, 500 test points, 500 drilling holes, and 10 lines for V-cutting 50cm for total length of non-metal gutters;

Only to check can we make a decision about PCB lead time for the difficult PCB orders.

PCBGOGO, electronic project engineer's best partner

PCBGOGO is not only improving the PCB fabrication time with 24 hours, but also guarantees the quality. What's more, we use the electroless copper deposition and not for saving PCB costs to use conductive adhesive technology, each order needs to manufacture with 240 minutes copper plating, AOI and probe test, and we take advantage of internationally known base materials.

If you have any questions, feel free to leave your message or contact us, we will be happy to help you.



;
Prev: English and Japanese website have been connected
Next:How do I redeem a coupon on PCBGOGO
Upload a photo:
You can only upload 1 files in total. Each file cannot exceed 2MB.Supports JPG, JPEG, GIF, PNG, BMP